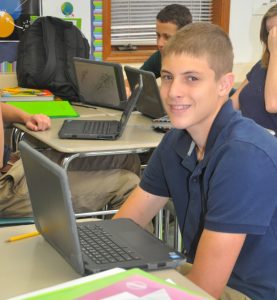 Websites
America Magazine
http://americamagazine.org/
America is a smart, Catholic take on faith and culture, for thinking Catholics and those who want to know what Catholics are thinking.
American Catholic
http://www.americancatholic.org/
American Catholic is a service of Franciscan Media (formerly known as St. Anthony Messenger Press), in Cincinnati, Ohio. The first issue of St. Anthony Messenger magazine was published by the Franciscan friars of Cincinnati on June 1, 1893. Over the decades it grew into one of the principal Catholic family magazines in the United States.
US Catholic
http://www.uscatholic.org/
U.S. Catholic puts faith in the context of everyday life with a strong focus on social justice and offering a fresh and balanced take on the issues that matter most in our world.
Busted Halo
http://bustedhalo.com
Under the direction of Fr. Dave Dwyer, CSP, Busted Halo® Ministries helps young adults explore their spirituality, listen to and encourage one another, discover (or re-discover) the rich depths of Catholic tradition, and connect to communities of faith where their unique gifts will be respected and used, and where they will find support on their journey towards God.
EWTN Global Catholic Network
ewtn.com
Links to TV and radio programming. Also devotions, document library and several mini-sites including one for children with games, prayers and TV programming.
New Advent
newadvent.org
Several resources including the Catholic Encyclopedia (original version from 1913), St. Thomas Aquinas's Summa Theologica, writings of the Fathers of the Church, the Bible, a library of Church documents and collection of interesting websites (not all Catholic.)
Catechism of the Catholic Church
http://scborromeo.org/ccc.htm
Designed by St. Charles Borromeo Catholic Church in Mississippi, this site allows you to search by phrase, word, paragraph# and includes hyperlinked cross references. Also, mobile friendly.
U.S. Conference of Catholic Bishops
http://usccb.org
You name it, it's here including news, daily readings, the Catechism and the complete New American Bible, Revised Edition (NABRE).
Diocese of Grand Rapids
http://www.dioceseofgrandrapids.org/Pages/default.aspx
Information and resources from your local Diocese including Sunday Mass at the Cathedral of St. Andrew.
Crux
Description: Crux strives to cover the worldwide institution of the Catholic Church, from the papacy to the hierarchy to local dioceses. The site explores the theology, doctrine, liturgy, practices, and traditions of Catholicism in the context of the life of modern-day Catholics, including disagreements and challenges facing the Church and Catholics. Social networking features allowing Catholics and non-Catholics to comment on current events and discuss social, theological, ethical, and spiritual issues.
Decent Films Guide
http://decentfilms.com
Films reviewed by film critic Steven Greydanus that include age appropriateness, moral/spiritual and artistic/entertainment ratings.
Word on Fire
http://wordonfire.org
Father Robert Barron's website utilizing many media tools including blogs, video, etc.
Catholic Answers
http://catholic.com
Website designed to "…help good Catholics become better Catholics, bring former Catholics "home," and lead non-Catholics into the fullness of the faith."
Catholic Culture
http://catholicculture.org
Website designed to distribute news, commentary, spiritual resources and practical suggestions.
Metropolitan Andrey Sheptytsky Institute of Eastern Christian Studies
http://www.sheptytskyinstitute.ca/
St. Paul University in Ottawa, Canada is the home of The Sheptytsky Institute which specializes in Eastern Christian Studies including the Eastern Catholic Church.
Theology Library
http://www.shc.edu/theolibrary/
Website developed by the Theology Department at Spring Hill College, Mobile, Alabama with access to Church documents, websites, etc. organized by topic.
Star Quest Production Network
http://sqpn.com
Audio and video podcast programs faithful to the teachings of the Roman Catholic Church.
Catholic Social Media
Vatican@Pontiflex
@Newsva_en
@vatican_va_en
@new_va_en
@HolySeePress
@RomeReports
US Catholic Church@USCCB
@USCCBlive
Catholic Blogs & Other
Whispers in the Loggia
http://whispersintheloggia.blogspot.com/
One of global Catholicism's most prominent chroniclers, Rocco Palmo has held court as the "Church Whisperer" since 2004.
The Deacon's Bench
http://patheos.com/blogs/deaconsbench
Deacon Greg Kandra is a Roman Catholic deacon serving the Diocese of Brooklyn, NY.
Gospel in the Digital Age
http://blog.archny.org
Cardinal Timothy Dolan's blog
Happy Catholic
http://happycatholic.blogspot.com
Julie Davis' blog includes links to book reviews, comments on movies and art, links to websites of interest, etc.
Ironic Catholic
http://www.ironiccatholic.com
Site description by the author: "Think The Onion written by someone who loves the Catholic Church"
LifeTeen
http://lifeteen.com
Life Teen began in 1985 as a Eucharist-centered movement within the Roman Catholic Church. The mission of Life Teen is to lead teenagers and their families into a deeper relationship with Jesus Christ and His Church.
Cardinal Newman Society
http://cardinalnewmansociety.org
Website focused on Catholic education. Catholic Central was chosen as a Cardinal Newman 2014 Honor Roll School of Excellence.
Amazing Catechists
http://amazingcatechists.com
Site provides many resources for Catechists, parents, program directors, youth ministers and adult faith formation leaders.
Catholic Apptitude
http://catholicapptitude.org/
Description: One stop
The Holy See
Recent writings, activity and news relating to Pope Francis including photos and current speeches. You will also find encyclicals, papal writings and just about any Church document you might ever want to read.
App version: Vatican.va available for iOS/Android. Free.
Catholic Apps
FREE APPS:
Laudate
Platform: iOS, Android
Cost: Free
Description: #1 free Catholic app on the iOS App store. Daily Mass Readings (with Saint of the Day and Reflections), Liturgy of Hours, New American Bible, Rosary, Stations of the Cross, searchable prayers, Catechism of Catholic Church and more. Some resources are linked to the USCCB.org website. Very comprehensive. Installed on all student/staff iPads at CCHS.
MyParish app
Platform: iOS, Android
Cost: Free for parishioners of participating churches
Description: Stay up-to-date with what's going on in your parish. Receive and respond to messages and RSVP for events. Many faith-building resources/features such as, Confession and prayer time reminders, daily Mass readings, quick access to parish contacts, the ability to submit prayer requests, and my personal and practical favorite: MassMode™ reminders to silence your phone before Mass!
Vatican.va
Platform: iOS, Android
Cost: Free
Description: The App for the official website of the Holy See.
The Pope App
Platform: iOS, Android
Cost: Free
Description: An app all about the Pope powered by news.va, which is run by the Pontifical Council for Social Communication. Browse photo galleries of recent General Audiences and Papal events, watch video clips of the Pope's addresses, read transcripts of his speeches, check out the Pope's upcoming schedule of events, and watch live streaming video.
RC Calendar
Platform: iOS, Android
Cost: Free
Description: Liturgical calendar from 1970 to 2300 and beyond. Feasts and celebrations according to the General Calendar and local calendars. About Today with information on the saint of the day. With iOS 8 can see the Saint of the Day on your Today screen.
Daily Prayers
Platform: iOS
Cost: Free
Description: Daily prayers, set reminders for your prayer time, share prayers via mail or Facebook, add your own prayers.
Give Us This Day
Platform: iOS, Android
Cost: Free for app; $2.99/mo. Or $29.99/yr subscription.
Description: Supports your desire to pray whether you have 5 minutes or 30 minutes. Includes simplified prayers for morning and evening, reflections on Scriptures for Mass, complete Mass texts and daily inspiration.
Evangelii Gaudium
Platform: iOS
Cost: Free
Description: Daily word from the Pope
3 Minute Retreat
Platform: iOS
Cost: Free
Description: A peaceful prayer experience that helps you re-center and relax wherever you are. New retreats every day of the year.
CST – Catholic Social Teaching
Platform: iOS
Cost: Free
Description: The social teaching of the Catholic church with search features, news/commentary and church documents. Better understand the Church's teachings on issues that matter most.
FOCUS Equip
Platform: iOS, Android, Windows Phone
Cost: Free
Description: Faith-based resources including talks, video clips, blog posts, training, bible studies. Share right from the app via Twitter, Facebook or email.
iBreviary
Platform: iOS, Android
Cost: Free
Description: An electronic breviary, the book used to pray the Liturgy of the Hours. Also includes prayers for the day. Uses the same translations for the psalms and prayers as a paper breviary. Provides the Mass readings of the day, a short saint biography on feast days and many prayers and blessings. For how-tos and support: http://www.ibreviary.org/en/
PAID APPS:
iMissal
Platform: iOS, Android
Cost: $4.99
Description: Access to Mass readings for any day of the year. WiFi/cellular not needed to access.
Divine Office 2
Platform: iOS
Cost:
$19.99
Description: Text and audio Liturgy of the Hours
Confession: A Roman Catholic App
Platform: iOS
Cost: $1.99
Description: Personalized examination of conscience, password protected profiles, step-by-step guide to the sacrament.