What if there is a lot more happening in Baptism than most people realize?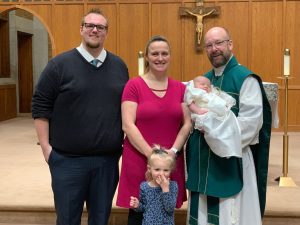 In engaging sessions, the Reborn program explores the deeply personal and sacred relevancy of Baptism for Parents, Godparents and, most importantly, the Baptized.
With a step-by-step explanation of the rite itself, including its profound place in Scripture and Tradition, Reborn shows how baptism reveals the heart of God's love for His children.
Parents planning to have their child baptized at St. Patrick Church will prepare through our REBORN program. Ordinarily, at least one parent must be a practicing Catholic registered at St. Patrick Parish. You can register on this website ("I'm New" tab) or in person at the parish office. Adult children of parish families who wish to have a child baptized must be registered under their own household. This is necessary to properly record your child's sacraments.
Dates and Time for Baptism
Dates and times for the Sacrament of Baptism vary based on the Pastor's schedule. To register for Reborn and set a date for baptism, please contact Carolyn Heckman:
carolynheckman@portlandstpats.org or (517-647-6505 x 418).