Mass
Times
Sunday
8:00 am
10:00 am

Facebook Live
St. Patrick Parish offices will re-open on July 7th with new office hours and day's, Tuesday's, Wednesday's Thursday's 9:00 AM-4:00 PM.  The office will be closed on Friday July 3rd for the 4th of July holiday.  
---
The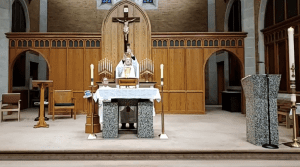 Diocese of Grand Rapids has released updated  information about resuming Masses and guidelines to follow while we resume Mass.  St. Patrick Church has resumed Masses . For more information from Fr. Mike click here.
---
There are so many things happening at the parish right now.  Evangelus is a new communication tool we are utilizing.  Tell us how to best send messages so you won't miss out.  Tap the link to register to join for emails or text messages, or text stpp to 55321.
---
Thanks to
a talented and generous parishioner we have homemade cloth masks available at no cost. If you or if you know of someone that is in need of a mask please contact the parish office at 517-647-6505 x 410 and leave your name and a contact number to arrange delivery.
---

Upcoming Facebook LIVE Events and Previous Facebook LIVE Events
can now be found on the Resources and Inspiration during Covid 19 page


Parish Events
There are no upcoming events.
View All