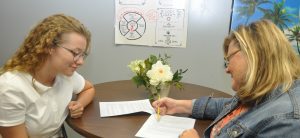 What the Counselor can help you with
COUNSELING APPOINTMENTS
A full-time school guidance counselor is available to students in grades DK-12 for academic, career, and personal/social development.  The counselors will assist the rest of the staff in areas of behavior management, crisis intervention, and conflict resolution.  Students and parents who wish to access these services need to call the office to arrange an appointment.  The counselors are also responsible for high school scheduling, standardized testing, college and/or career exploration, processing grades, crisis intervention, and overseeing accommodations and modifications for Special Education students.
COLLEGE COUNSELING
The school counselors are available to answer questions about procedures for enrollment in colleges. College applications for many of the area colleges are available from the guidance counselor, but students are heavily encouraged to apply online.  Transcripts are sent by the guidance counselors to the college, university, or trade school of the student's choice.  Transcript requests must be made in person to the guidance counselors.
College Representative Visits to the school: Students must sign up prior to the visit.
College Visits: Students must obtain the "College Campus Visit" form from the guidance office before visiting a college campus.  The form must be signed by the student's parents and the attendance secretary before the day of the visit.  Students must also obtain a "Pre-arranged Absence from School" form.  College visitation days are considered an excused absence.  Two visits may be scheduled during the junior year and two visits may be scheduled during the senior year.  One of these days may be used for a job shadow experience.  If a student waits until the second semester of their senior year to make a college visit or job shadow, they need to keep in mind the absence will count towards the attendance policy for qualifying for an exam waiver for second semester.
SCHOLARSHIPS
Most scholarship information comes directly from the college offering it. Academic scholarships are based on an outstanding GPA, high test scores, teacher, Administrator and/or employer recommendations, and involvement in extra-curricular and/or community activities.  Other scholarship information is available in the guidance office.
ACT Testing
Our students will take the ACT test on February 20, 2019.
Insurance companies and other organizations provide tens of thousands of dollars of college scholarship money each year.
Full details of the scholarships can be found
NHS Webinar Series
Parents/students can register now for the NHS College Admission and Financial Aid webinar series.  There is no charge for the webinars. Dates, topics, and registration information can be found here.