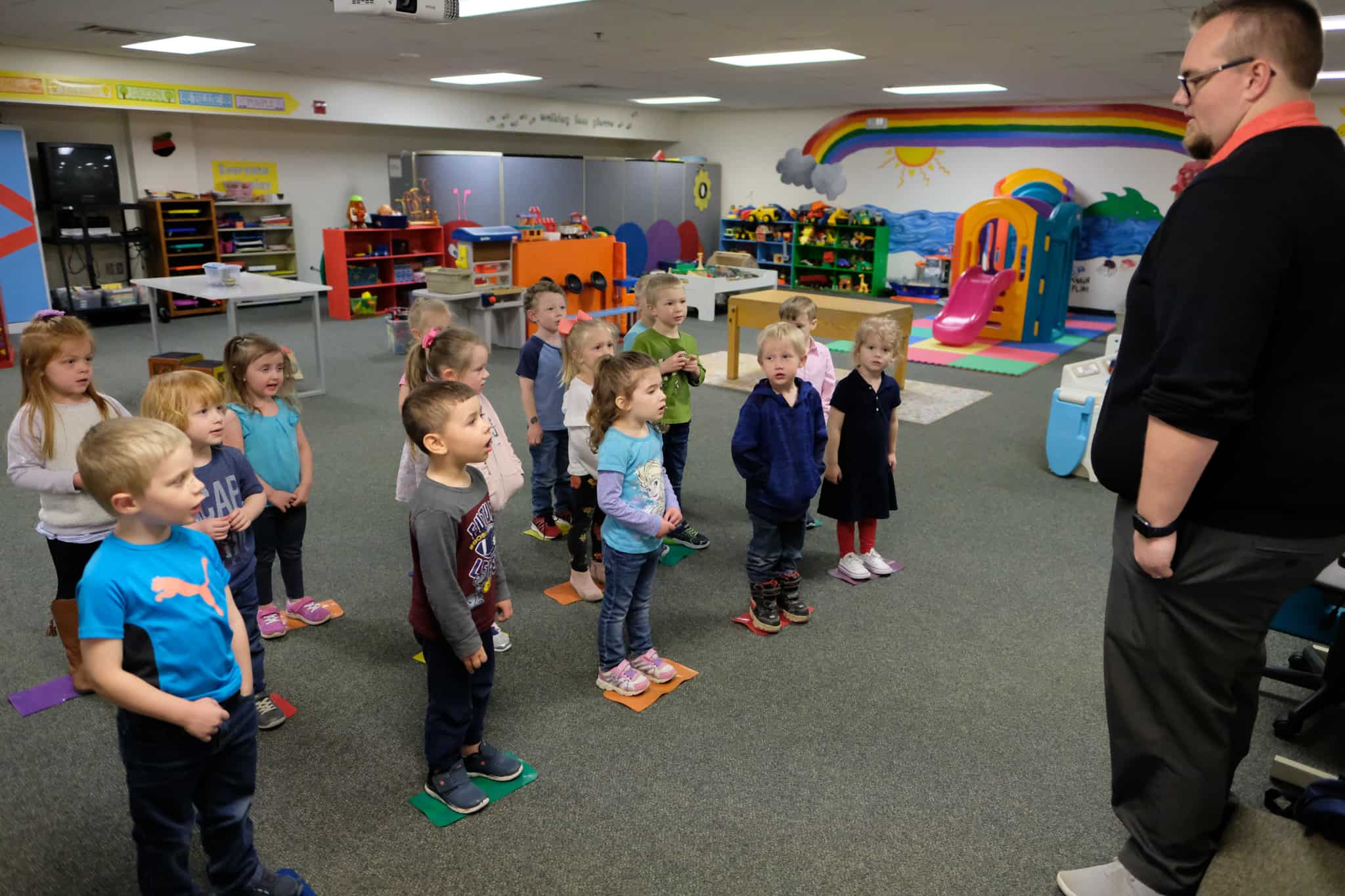 St. Patrick Preschool is located in the lower level of the main school building, adjacent to the cafeteria. We offer two-, three-, and five-day sessions.
Mr. Aaron Thelen is the lead teacher for St. Patrick Preschool.  Aaron has worked with daycare/preschool children for many years, did a one-year stint in our school office, and returned to the preschool in the fall of 2015.
Children must be three by September 1 and must be toilet trained.
Families will need to fill out the Preschool Class Preference Request Form.
The following forms will also need to be filled out.  Please contact the Preschool at 517-647-7551.
Child Information Form — Contact Preschool
Health Appraisal Form — Contact Preschool
Families will also need to provide a copy of the child's birth certificate
Enrollment/Registration Fee = $50
St. Patrick Preschool is a licensed preschool.  Tuition is tax deductible as a childcare expense.  Tax ID# 38-1390536.
Students for the three-year-old class should be three by the first day of class and toilet trained.
Classes for four-year children are intended for children who would be attending kindergarten the following year.
Cognitive skills, social interaction, language development, art projects, field trips, music/finger plays, and holiday activities are part of the established guidelines which are keys to positive child development.
We incorporate a Smartboard in many areas of learning.  We also have scheduled gym time for the children.  Mr. Aaron and his guitar are a big part of our preschool music program.
Monthly Christian themes are incorporated into the curriculum as well to provide an important spiritual dimension.  Basic concepts covered include colors, shapes, name recognitions, left/right, over/under, counting/numbers.
Fine motor skills are emphasized and include tracing/writing, painting, pasting, cutting and coloring.
Outdoor playtime
Three-year olds spend their outdoor time in the grassy area across West Street.
Four-year olds are taken to Alton Park across Grand River Avenue.  In preparation for next year, we use this as a learning opportunity, teaching them the safe and proper way to cross the street.
P SACE
2020- 2021 Sessions
Mornings 8:30 – 11:30 a.m.
3 and 4 year old children will attend multi-age preschool 2 to 5 days.  You choose the days you want to attend.
Afternoons 12:30 – 3:30 p.m.
For 4-year old children only (3 options)
– Monday/Wednesday
– Monday/Wednesday/Friday
– Monday/Tuesday/Wednesday/Thursday/Friday
Classes will begin the week of August 24 and end the week preceding Memorial Day.  School vacation days follow St. Patrick School calendar.  Bad weather days follow Portland Public/St. Patrick School closings.
space
History and Mission
In June of 2006, St. Patrick Preschool was established.  Our program offers a balanced approach of self-directed and teacher-directed activities.  Our mission is to assist the children to grow developmentally in preparations for their Kindergarten experience in a welcoming, Christian environment.  St. Patrick Preschool is a great place to play and learn!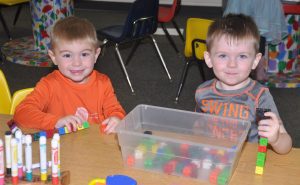 All of our students from preschool through 12th grade are housed in the same building, and our classroom is adjacent to the school cafeteria.
Our preschool children often see older siblings, cousins, and friends who are on their lunch break. The older students always greet them with hugs and smiles!