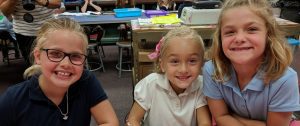 SPACER
St. Patrick Catholic School Dress Code Policy:
The administration has approved Educational Outfitters® as an approved supplier for school clothing because it offers quality clothing at a reasonable, competitive price. Educational Outfitters is located at 3323 West Saginaw in Lansing. They also offer on- line shopping at http://www.educationaloutfitters.com/.   Our school code is MI0910.
Educational Outfitters will have all approved items on record to make sure the items being purchased are approved for our school. Additionally, Educational Outfitters offers a unique school fundraising program, whereby 3% of net sales of St. Patrick's approved items are returned back to the school.
Parents are not required to purchase school clothing through Educational Outfitters; however, if you purchase school attire elsewhere it must meet the school dress code requirements and should be as identical in appearance (style, length, color) to the approved Educational Outfitters items as possible.
Specific dress code approved clothing can be found in the school handbook, which can be found in the Documents & Forms page.  This video shows the changes for the 2019-20 school year.
The St. Patrick PTO frequently sponsors Used Uniform Sales where gently used pants, shirts, etc. can be purchased for as little as $1 each.  Watch the announcements on our home page or visit the PTO website for information about these sales.