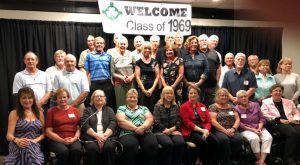 Twice a year, in April and October, the Shamrock Alumni Newsletter is mailed free of charge to all St. Patrick alumni.  If you have information that you would like to be included in the next issue, e-mail the Editors.  Deadline for submission is March 1 for the spring issue and September 1 for the fall issue.
These issues of The Shamrock can be opened and read online.  

FALL 2013–N/A

FALL 2012–N/A 

FALL 2009–N/A

 

SPRING 2008–N/A
Attention Class of 1970
The 50-Year Reunion sponsored by the Father Flohe Foundation and scheduled for September 12 has been postponed until April 17, 2021 due to Covid 19.
A smaller reunion will be held on September 12, 2020 for any classmates who are comfortable attending.  That will take place at the home of Sue (Stiffler) Vanlente, 8151 Diane Drive, Portland.  For additional information, contact Sue at 517-575-8000 or suevanlente@gmail.com.
Lost Sheep
If you have current address information on any of these Lost Sheep, please contact Amy Smith (
parishoffice@portlandstpats.com
) 140 Church Street, Portland, MI 48875.  (517) 647-6505 ext. 410. Or, send e-mail to 
Shamrock Editor
.
(Last updated on March 10, 2020)
1950s/60s
1956 Duane Irrer

1957 Marlene Hoppes Tanner

1959 Joyce (Howe) Davis

1961 John D. Pung

1966 Dan Lehman

1966 Tony Blundy
1970s/80s
1973 Lillian Castranova

1974 Steve Jenkins

1975 Susan Thelen

1977 Brian Jenkins

1977 Bob Rensi

1980 Angie Young

1980 Patrick Ellis

1981 Mike Binder

1982 Jeff Strang

1983 Steve Lehnert

1985 Scott Osmar

1986 Phil Gensterblum

1987 Shiela Morales

1987 Stacy Ferhnolz Steinman

1989 Amy Wixon
1990s/2000s
1990 John Huhtala

1991 Elaine Mauer

1992 Karen Fedewa Alldering

1993 Darcy (Hinds) Vandecar

1994 Jeremy Pohl

1994 Theresa Schoenherr Fensom

1996 Shaun Lehman

1996 Paul Theuerkauf

1997 Jenny Chamberlain Barbosa

2000 Jeff Pung

2000 Adam Bartlett

2001 Segrid Johnson

2002 Andrew Stopczynski

2004 Don Vollman

2004 Cara Monks

2004 Mark Schulte

2005 Tony Fedewa