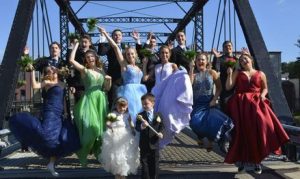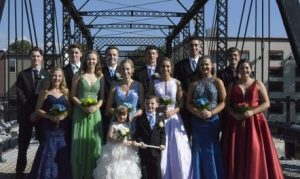 Homecoming theme:  Holidays
Seniors – 4th of July
Juniors – Christmas
Sophomores – Halloween
Freshmen – Canada Day
Dress Up Days:
Monday– Comfy Day  (NO JEANS!!) Dress up in comfy clothes.
Tuesday– Holiday Day  (NO JEANS!!) Dress up as your favorite Holiday.
Wednesday– Sunday Best  Dress in your Sunday best. Guys in ties and girls in appropriate clothing with straps on the back of their shoes. Great Grandma approved!!! (No flip flops!)
Thursday– Camo Day  Dress in your favorite camouflage wear. (No flip flops!)
Friday– Spirit Days  Dress up in St. Pats SUPER spirit wear and let your spirit rock! (No flip flops!)
Printable schedule of events
PTO Tailgate before the game
You are invited to the PTO Tailgate Before the Homecoming Game,  Friday, September 14 6 p.m. in the PHS parking lot.   Bring a potluck dish. Enjoy hotdogs, pop/water and goodies!  Game starts at 7 p.m.
Activities and Events:
Friday, September 14, 2018
7:30 a.m. – Donuts for High School and Junior High (We will be going at 5-10 minutes time slots, email to follow.)
10:00 a.m. – High School Powder Puff. Please allowed girls to get ready at 9:50 a.m.
11:39 p.m. – Jr. and High School Pep Assembly. Please take 5th hour attendance and head to the gym.
1:00 p.m. – Volleyball Tournament or immediately after the Pep Rally
6:00 p.m. – Parade St. Patrick to Portland High School 

****This is for Jr. High and High School Students only.****

6:00 p.m. – PTO

 

Tailgate Party
7:00 p.m. – Football Game
Bonfire after the football game until 11:00 p.m.
Saturday, September 15, 2018
– Dance in the Parish Hall from 7:30 p.m. to 10:30 p.m. in the Parish Hall.
– Students from other schools MUST have a dance permission slip.
During Spirit Week (Monday, September 10–Thursday, September 13) Student Council will be selling Spirit Wear during lunch. If you would like to place an order that will be great too, just let Mrs. Kaye Sandborn know. The students will be able to wear the tattoos on Friday of Homecoming week.
-1 string of green and 1 string of white beads ————–.50
-1 green shamrock medallion necklace ———————.50
-1 green glow pompom —————————————$3
-1 tattoos ———————————————————–.25
-1 green frisbee———————————————————-$1
Powder Puff Game:  The Student Council is planning the Powder Puff Football Game on Friday, September 14th at 10:00 a.m.